Paul Murphy
Most of my friends from further afield than Birmingham may well be unfamiliar with this most brilliant musician and person, Paul Murphy. I first met Paul as a teenager playing at the Rowheath Pavilion Folk Club about five minutes away from where I used to live, and from the get go I was enchanted by his infectious energy, wit and perception. Paul sadly passed away on January 28th, 2016, but I would like to use this brief blog to shine a light on his multiple talents and exuberant persona for those who didn't have the chance to meet him.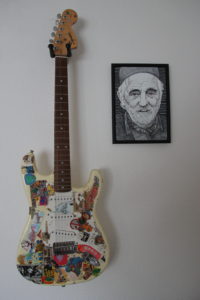 One of the most important critiques I have ever received of my music was from Paul Murphy. After hearing me perform at the folk club, he told my Dad (my first guitar teacher and songwriting reference) that I sounded too much like him. A completely honest and astute statement that few people other than Paul were aware of or able to articulate. From then on, I started to actively pursue styles of music and singing that had nothing to do with my Dad's style of playing; a change of course which led me directly to my love of flamenco in particular. I think it's important to highlight that whilst Paul was incredibly supportive of so many people, he certainly wouldn't kiss your ass for the sake of it. Just one of the many things I am grateful to him for.
Paul's career is something that I am sure people will be making a documentary of or are already in the process of doing so, but essentially he led a life that was coherent with his principles. A musician, poet, actor and social activist, it is possible to see all of these strands come together in his various projects. For the uninitiated, a great place to start would be the songs he fronted with The Destroyers, an 'oompah folk band' from Brum:
I had the absolute privilege to play once at one of Paul's legendary Songwriter's Cafe nights held in a treehouse at the bottom of his garden. After the show we congregated around his kitchen table and hummed and strummed the night away sharing songs, stories, drinks and the rest. Amazingly, despite being a good thirty plus years older than most of us there, he was up extremely early the next day to get into a van off to play at a festival with The Destroyers! Simply incredible energy.
The portrait my Dad Paul Nocher has done of Paul Murphy is a real beauty I think, capturing the sparkle in Paul's eye and irresistible charisma.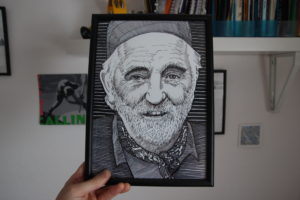 I will always be forever grateful for Paul's love, support and nurturing guidance in my own musical and personal journey. Thanks for all the jazzy funky fables Paul!!!! Your memory lives on and continues to inspire.
—-
If you would like to purchase Paul Murphy's portrait from the musical heroes series drawn by Paul Nocher, visit the shop page on the site or follow this link here.