In recent years I have come to specialise in webcam guitar tuition primarily via Skype, to the extent that most of the guitar teaching I now do is online. Some students have their doubts when it comes to learning via webcam, but as long as you have a decent connection and a laptop or computer with a camera I can assure you it is practically the same as us being face-to-face in the same room. I use high speed internet plus a very good quality 1080 pixel streaming camera with stereo mics to ensure you get a crystal clear signal, image and sound.
I first started teaching guitar in London several years ago, but since then I am proud to now have students across the globe who I teach via webcam, predominantly in the UK, USA and China. My specialist tuition services such as flamenco lessons for English speakers are in high demand via Skype, but I also teach acoustic folk fingerstyle and beginner guitar to adults and children alike.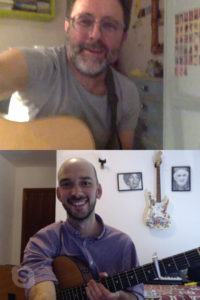 How to Get the Most Out of Skype Guitar Lessons

The biggest tip I can offer to you to improve your connection and learning experience via webcam is to plug directly into your router with an ethernet cable. These normally come for free with your router or are easily available from any electronics store. If where you play guitar is located too far from the router, you can easily buy an extensions for your router with a socket for an ethernet cable.
I also ask all of my students to sit on an armless chair in a well lit place with no distractions (not a sofa, comfy as yours may be!). The only limitations of Skype are for us to play together simultaneously, or of course me being able to physically change your hands or posture. On the obvious plus side you can take lessons from anywhere in the world, at a time that suits you, from the comfort of your own home with no transport hassle or cost. I  supplement all of the lessons with links to TABs and/or videos to ensure you have as much help as possible to progress on your guitar journey through the webcam sessions.
If you would like to book a lesson via Skype or other popular webcam streaming services (e.g. Zoom or Google Hangouts), you can purchase individual sessions or discounted batches direct from my online store. Feel free to ask me any questions sending me an email to [email protected] before you make a booking.
All payments are securely made via PayPal, but if you find this cumbersome I can also send you an invoice for a direct bank transfer. For international transfers I recommend using Transferwise as this is a rapid and secure service with minimal transfer fees, much less than what most high street banks will charge.
Here's a video testimonial from one of my flamenco guitar Skype students in London, Rosa, in case you had any further doubts!