Sunday started with a fairly mean hangover. I'd stayed at my brothers the night before, having been out on the lash. We'd had a great time, been to see a friend's band then gone bowling with mates. The night was rounded off with a good old fashioned scuffle outside a chicken shop in Finsbury Park and a smoke when we got home to chill.
You may ask what the hell any of that has to do with a music review, but in my experience the way I appreciate music is reflected by my emotional and physical state at that precise moment. How I interpret a performance is intimately bound up with how I feel about a myriad of sensations that are simultaneously one and separate from the music.
Anyway, after walking off the glut of my hangover I headed over to watch 'Held at Hucks', a monthly acoustic music gig held in Walthamstow. Hosted by Marc Oliver, one of the most enthusiastic characters I've ever had the pleasure to meet, I arrived just as the first act was about to begin. I ordered a rather expensive green tea (I was still in the nursing stage) and huddled up in the performance room at the back of the cafe.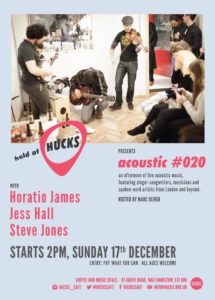 First up was Steve Jones, a Liverpudlian singer-songwriter based in Walthamstow. I've never been to Liverpool but the way Steve spoke and sang about his home definitely gave me further desire to visit. The antioxidants from the tea were starting to kick in and I was warming more and more to Steve's personal and politically charged songwriting.
However it was the last tune that really knocked me for six, a song called 'Jonny Boy' written in tribute to his brother. A quote from the great flamenco singer Camaron de la Isla came to mind; 'flamenco es transmitir'. I think you can substitute flamenco for simply 'music is to transmit': to express, to somehow take our snapshot of human experience and convey those feelings and sensations through song. Steve's song brought me close to tears as the adrenaline of the night before came rushing back into my veins.
Next up was Jess Hall, another locally based songwriter originally from Devon. What was remarkable about Jess' performance was her vocal control; the notes were reached and held with perfect sustain, not an easy feat. It was great to see how comfortable Jess appeared whilst playing, in part owed to the warm environment created by Marc hosting, but clearly she had confidence in her own songs. I particularly liked her cover of local heros East 17's Xmas number one, again delivered with security and a dose of good humour.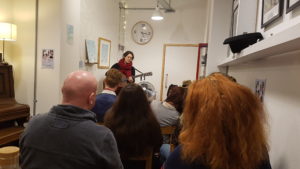 The final act were more of a band set up, called Horatio James. There were some interesting arrangements and lyrics performed by the group, and they certainly had the folk Americana look down to a tee. I think I would've been able to get into their well crafted tunes more if there had been percussion present. I've played in groups with bass but no percussion as well and my friends had pointed out to me they were missing a bit of rhythm. Being on the other side of the fence confirmed that observation for me, as just a little bit of a beat would've rounded off the group perfectly.
The afternoon gradually drew to a close but I'm extremely glad I went. Apart from simply having the pleasure of being entertained, as a songwriter myself the event reminded me of some fundamental aspects of live music that are easy to forget. Firstly, set up is everything and the roll of the host is crucial in providing a warm and respectful atmosphere for songwriters to share their tunes. There is perhaps nothing more demoralising for an original singer songwriter than confronting a room of noisy people where the focus is not on the music.
Above all else though I was reminded of the beauty and liberation of hearing songs performed with real soul. I couldn't care less about technical ability when it comes to a performance if there is no transmission. I guess it is the ability to transmit that is the true wealth of a songwriter, as almost all of us write and perform for next to no money.
LINKS:
Held at Hucks: Follow @heldathucks
www.stevenjonesmusic.net
www.jesshallsongs.co.uk
www.horatiojames.com