"Renny is an excellent musician and teacher. He taught me the fundamentals of the guitar and music and gave me the confidence to play songs in a very short time. Classes are always fun and relaxed."

Peter Fields

"Excellent teacher, professional and enthusiastic."

Cosette Muñoz

"Renny is fully recommended as he is an amazing guitarist and a great teacher. It's a challenge to find the combination of the two but were lucky to have him here in our area. As an instructor he works with whatever level you're at and is always trying to find and understand your way of learning and absorbing the information… He has great attention to detail as well as fundamental technique so you get the optimal sound."

Mark Watan
I am a registered guitar tutor and professional musician based in Walthamstow, London. I am a full member of the Registry of Guitar Tutors at the London College of Music, teaching many guitar styles to people of all ages and abilities, from beginners to advanced. My speciality is acoustic fingerstyle and flamenco guitar where I have most expertise and am proud to have achieved great results with many students. You can read my students' reviews in full on my Google Business page here.

As well as acoustic and flamenco guitar, I have taught blues, jazz, bossa nova, pop, swing, reggae and classical guitar styles to name but a few! I love exploring and teaching a wide range of styles and am always willing and able to adapt the lessons to suit your interests. I encourage all my students to become 'music literate', developing skills to read TAB and/or sheet music plus an understanding of essential music theory. Nothing too dry though, don't worry!!!
I have taught pupils of all ages and abilities from children through to retired adults and have an advanced DBS certificate. I can provide you with many excellent references from parents, schools, academies and students at your request.
Lessons take place at my professionally equipped home studio in Walthamstow (see map below), online or at your house for an extra fee. I have plenty of guitars so you do not need to bring your own. You will need one to practise on one however!!! I can help you choose a guitar that is best suited to your needs.
If you have any questions or would like to book a lesson please call or message me on 07583076817.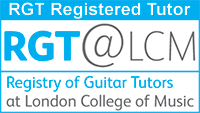 Do I need to bring an instrument?
Not unless you really want to! I have plenty of right-handed guitars here at my home studio but if you prefer your own instrument feel free to bring it. You should have a guitar at home to practise on and I can help you purchase one if you need some guidance.
How often are the lessons?
Most of my students take lessons weekly although some prefer once a fortnight. In my own learning experience the ideal number is twice a week, in which case I give students a discount on fees to make it more viable.
When can I take a lesson?
I have availibility from Monday to Saturday and work throughout the day including evenings. I have a busy schedule but can always find the time for new students so just let me know when you're available and we can figure it out.
What about cancellations?
I will always make an effort to find another slot during the same week but if this can't be done then the full fee will be charged with less than 48 hours cancellation notice.
Can I take lessons online?
Yes! I have recently begun teaching via Skype and am experiencing positive results. This is particularly convenient for people who find it hard or impossible to travel to my studio in Walthamstow and prefer the comfort of learning from their own home.