Renny saved our wedding. He stepped in when we were let down by another performer, and he even learnt three new songs with only a week notice. He was a perfect gentleman, polite and professional, his playing was perfect and really set the tone for our special day. Thank you Renny!

Ian Molesworth, Google My Business Review

We were recommended Renny's wedding band by a mutual friend and were delighted with his performance on our special day. He played some of our chosen favourite songs and mixed in some of his own work – at our request – all of which were delivered fantastically and with the style of someone who lives and breathes music, not a tired weekend covers band. His band members were polite and professional, looked and played the part and the whole process was smooth and hassle-free. I'd recommend Renny without question.

Nathan Barry, Google My Business Review
Over the years I have had the privilege to play at many different weddings in England and Spain and thoroughly enjoy curating an original repertoire for each event. The services I provide are specifically catered to the different moments during a wedding that require live music:
Signing of the Registrar
On several occasions I have been asked to play for wedding guests whilst they take their seats and during the signing of the registrar. In the past I have been asked to play solo Spanish, classical and flamenco guitar to provide a soothing yet emotive ambience. On other occasions I have also sung and performed as a duo (e.g. with cello), playing predominantly jazz standards to provide a relaxing and sophisticated atmosphere. As always my repertoire can be adapted to suit your tastes and requirements.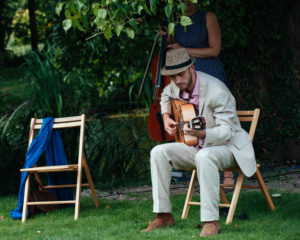 Drinks Reception
I have also been asked to play frequently during the drinks reception after the exchange of vows and signing of the registrar has ended. Normally I play guitar and sing at the same time to provide an upbeat and celebratory atmosphere to the event, drawing upon a wide range of tunes from pop, jazz, reggae and traditional songs. Close attention is always given to any requests couples have and I can easily learn songs specifically for the event. I also aim to provide a repertoire that will appeal to all ages, as weddings frequently attract crowds both young and old!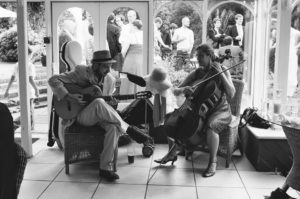 First Dance and Party Music
After the guests have eaten and the speeches all been given, I have also performed in a band format to play for the first dance and then for guests to truly let their hair down. I normally play as a three or four piece with bass, drums and trumpet or violin. As a band we would normally play a selection of classic and contemporary pop, funk and generally upbeat danceable tunes!
If you would like to ask any questions regards your wedding please contact me on +44 7583076817 or email renny@rennyjackson.com.